How Do I Setup Email On Outlook XP / 2002 / 2003?

You will need the following...
- Email Address
- Email Password

Warning
You must have updated to Office Service Pack 3 if you are using Outlook 2002 / Office XP as there is a BUG in the encryption function that will prevent you from being able to send emails.  
If possible we would recommend you use Thunderbird, which is a modern and free mail client from Mozilla Corporation, who make the Firefox web browser. It supports auto configure so is infinitely easier to setup and use while giving you all the modern functions Outlook 2002/2003 are missing. 
Note: If this is the first time you have used Outlook 2003 / 2002, you will be presented with a setup wizard. If so, skip to Step 3

1. Click on Tools in the menu bar, then click on Email Accounts…

2. Select the radio button next to Add a New E-mail Account, then click Next.
3. Select either POP3 (download to your computer) or IMAP (keep mail on server, allows email syncing between multiple devices) and click Next.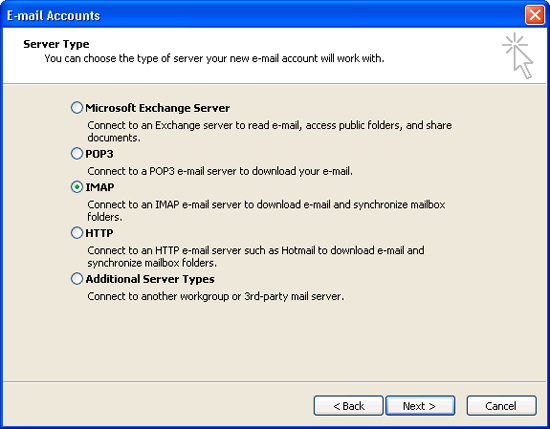 Note: This version of outlook has limited IMAP support, it will let you view all folders and syncs properly but it has poor folder management and does not support special folders like a trash bin, spam or drafts. If you need these features we highly recommend you use either outlook 2010 or see the article on Thunderbird which has this support and is completely free to use and setup takes only a few seconds. See the Thunderbird article here

4. Complete the following
Name: Enter the name you wish to see appear on your emails. This field can have capitals and spaces. Typically you enter your Name or Company Name.
Email Address: Enter your email address (This should be already setup in the hosting control panel) e.g. email@example.com.au
Incoming Mail Server: imap.quick.net.au or pop.quick.net.au (which you enter depends on the account type you selected earlier, POP3 or IMAP)
Outgoing Mail Server: smtp.quick.net.au
Username: Enter your full e-mail address. e.g. email@example.com.au
Password: You will have assigned this when you created the mail box on the server.
5. Click More Settings... on the right (not Next!) as we have some other things to configure.


6. Now click on the Outgoing Server tab and tick the box My Outgoing Server (SMTP) Requires Authentication. Leave the bullet on the line below in Use Same Settings As My Incoming Mail Server as A shown below.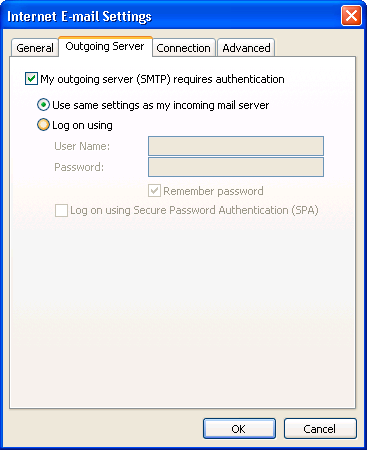 7. Click the Advanced tab at the top of the screen when done.

Underneath Incoming Mail (IMAP/POP3): click the tick box next to This Server Requires a Secure Connection (SSL). The port number in the box just above this will jump automatically to either 995 if you are using POP3 or 993 if you are using IMAP.

Underneath Outgoing Mail (SMTP): click the tick box next to This Server Requires a Secure Connection (SSL). Next to Outgoing Mail (SMTP): change the number from 25 to 465.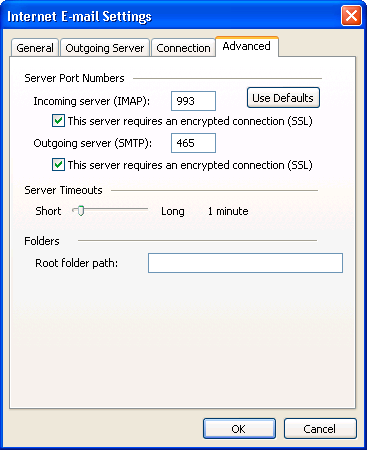 8. Click OK to save the settings and return to the wizard. Click Next and then Finish. All done.