How Do I Adjust Web Server Settings?

Here you can set custom web server settings such as mime types, index files or deny access to the site from an IP address or range.
Login to your account on our website at DDNS.
Select Products / Services on the left-hand side then click Manage next to the account you wish to amend. Now click the Login To Plesk link from your control panel (orange button).
Click the Websites & Domains tab

Scroll down and look for your site or sub-domain and click Show More to reveal the hidden menu.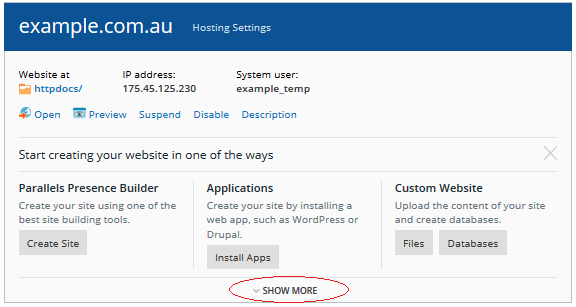 Click the Web Server Settings icon.
At this point if you have more than one name with DNS in this subscription, you will need to select the one you are working with.

Options Include...

Mime Types
Enter your custom mime type
image/jpeg .jpeg

Deny access to the site
You can specify an IP or range of IP's that will be blocked from accessing your website.

Default Index (directory Index)
Click Index Files and select custom, before entering the name of the page you want to load by default when someone opens your website. 
The server default list is...
index.htm
index.html
index.php

If you select custom, enter your custom page name e.g. your-home-page.html